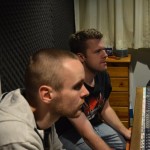 In April Sidewalk started the recordings for their debut album. After releasing demo's, EPs and a split an album is the only and often asked for option. The band is happy that they have this opportunity to release a full length.

At No Compromise Recordings in Putten 14 songs will be recorded. Fast ones, mid tempo, the album will be more diverse than previous releases. Among the tracks is a re-recording of the song 1000 Miles from 2013.
The recording team consists of Sidewalks own guitar player, Martin Kroeze (producer), Timothy Keppler (co-producer) and Dave Zand Scholten (assistant engineer).
The recordings will be finished in late May. Then the process of mixing, mastering and producing will start. The expected release date is in October 2015, followed by an European release tour.

Follow Sidewalk on Facebook, Twitter or Instagram to stay updated about the album.