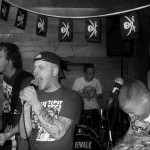 We regret to inform you that Bouke will quit the band. He joined in the end of 2011 and was very important in improving the band's sound, giving it much more power. More important, a great and crazy guy! But sometimes, good things come to an end. Read his message below:
"It's not that I want to quit, but I'm going to step out of Sidewalk. I moved in 2013 and now the distance for the rehearsals is a problem. I can't spend the money, time and energy that is needed for necessary travelling.
Pieter, Hugo and Martin are great guys! I love the music that we make. And the new songs are getting better and better. I fucking hate this shit!
I am going to do the shows that are announced, see below. So I'll hope to see you there! Thanks for the good times and memories!
Yours truly, Bouke Winters"
Last shows
Feb 28 – Brussel, Belgium
Mar 1 – Mons, Belgium
Mar 7 – Hengelo, NL
Mar 21 – Utrecht, NL
Mar 22 – Lahr, Germany